Aaron's Remodeling Company is proud to provide construction services with knowledge and expertise to the residents and property owners of Knoxville and the surrounding area.

We understand how important it is that your home or office reflect who you are, and we take pride in providing our clients with a creative, yet common sense approach to residential and commercial remodeling. We specialize in making your space look and feel great.
We provide numerous professional services, but specialize in one thing only, listening to our clients needs. ARC believes that communication is the most important and essential quality we offer our customers.
ARC CONSTRUCTION AND REMODELING SERVICES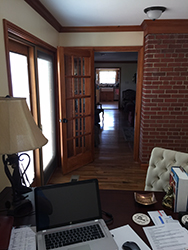 ROOFING
SIDING
DECKS & SCREENED PORCHES
KITCHEN AND BATHROOM REMODELING
ROOM ADDITIONS
STRUCTURAL REPAIRS (CARBON FIBER CERTIFIED DEALER/INSTALLER)
INSURANCE REPAIR CLAIMS
CUSTOM HOMEBUILDING
COMMERCIAL BUILD OUTS/TENANT IMPROVEMENTS
HOME THEATERS
THEME ROOMS/SPORTS ROOMS/MOVIE ROOMS
FENCES
POOL HOUSES
HANDYMAN SERVICES
Our favorite project is one that requires use of our abundant creativity and imagination.

If you can dream it, we can build it!
Following our free consultation, ARC will present you, our client, with a detailed estimate outlining a comprehensive scope of work, taking into consideration your requirements, budget and vision. Once plans are satisfactory to all involved, your new project is placed on our schedule and you can begin looking forward to the completion of your new space!
Selecting the right contractor is very important. Practically no one has a fat stack of disposable cash sitting around to be "wasted" on inferior work, so a relationship of trust is paramount when choosing your construction professionals. We strive to complete each project correctly the first time, every time. During our initial meeting, we supply you with a list of references from past clients, allowing you to personally verify our professionalism, quality and service.
Aaron's Remodeling Company is locally owned, licensed and insured. We have proudly been in operation in Knoxville since 2004, weathering the recent crippling economic downturn simply because we are dependable, skilled, and we love what we do.